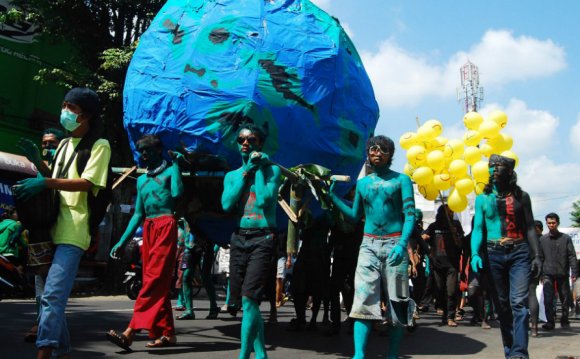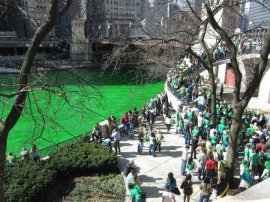 St. Patrick's Day is one of the most popular annual festivals in the world. While the biggest celebrations happen in Dublin, there are plenty of other St. Patrick's Day parties to check out around the globe. Here, we take a look at some of the destinations 'going green' this St. Paddy's Day.

1. Chicago, USA

The dyeing of the Chicago River is one of the highlights of the annual St. Patrick's Day celebrations in the Windy City. This year the river will go green on March 14th at around 10am. If you're in the area and want to watch as it happens, some of the best viewing spots are the east side of the Michigan Avenue Bridge, the west side of the Columbus Drive Bridge and Upper and Lower Wacker Drive between Michigan Avenue and Columbus Drive. The parade itself will then start at noon leaving from Balbo and Columbus, and heading north up Columbus Drive towards the Buckingham Fountain. Plenty of other events are set to take place throughout the city to celebrate St. Patrick's Day, from a fun run to theatre shows.

2. Sydney, Australia

Visitors to Sydney will be able to enjoy the city's annual St. Patrick's Day Parade and Family Day. In the past the parade has started at noon, leaving from the Town Hall on George Street and heading along Park Street and Elizabeth Street before ending up at Hyde Park. This is actually said to be the second-biggest St Patrick's Day parade, after NYC. This year's parade will be held on Sunday 15th March, with more details to be announced soon. Along with the spectacle of the parade itself, you'll also be able to enjoy lots of entertainment in Hyde Park from local and international music acts performing on the main stage to food stalls and plenty more besides.

3. London, England

This year's St. Patrick's Day Parade in London will take place on Sunday, March 15th, and will feature colourful floats and marching bands aplenty. The parade will kick off at noon from Green Park in Piccadilly and continue towards Trafalgar Square where an all-day festival is taking place. At the Trafalgar Square Festival you'll find free entertainment from noon to 6pm, including traditional Irish dancing and music. Leading up to the day itself there will be more events taking place throughout the city, including storytelling sessions, exhibitions and plenty of parties in some of London's best Irish pubs.

4. Brussels, Belgium

If you're visiting Brussels on St Patrick's Day, you're in for a treat. The city's St Patrick's Day Parade in previous years has been staged in the Schuman area of the EU Quarter in Brussels, which is known as the city's Irish village. Even Brussel's most famous statue, the Manneken Pis, often wears tweed for the occasion. Details of this year's parade will be announced soon.

5. New York, USA

New York's iconic Empire State Building is 'going green' for this year's celebrations. The city's annual St. Patrick's Day Parade is the largest in the world and a staple of St. Patrick's Day shenanigans in the USA (it's shown on national TV to millions of viewers). Starting at 11am on March 17th, and lasting for six hours, the parade will march down Fifth Avenue and will feature floats, dancers and bagpipers galore. Expect huge crowds and lots of green beer at the city's ubiquitous Irish bars.

6. Boston, USA

Considered to be the most Irish city in the US, Boston celebrates St. Patrick's Day in style with its annual parade. The second-biggest St Patrick's Day parade in the country, it's held in the predominantly Irish-American neighbourhood of South Boston, better known as 'Southie'. Each year, this parade attracts around a million spectators and is also broadcast live on TV to overseas troops. This year the parade is set to start at noon on March 15th and travel from the Broadway T Station to Andrew Square. Elsewhere, the Dropkick Murphys will have their annual gig at the House of Blues, an unmissable event for anyone looking to party after the parade.

7. Auckland, New Zealand

New Zealand's tallest manmade structure, the Sky Tower at SKYCITY Auckland will go green as part of this year's St. Patrick's Day celebrations in Auckland. Leading up to the big day itself, you'll find plenty of things happening around the city. You can check out the parade which will start at 11am on the day itself and head along Queen and Albert Streets. It'll be followed by a Fleadh (venue to be confirmed) on Aotea Square, where you'll be able to enjoy traditional Irish music and dancing. This year's Auckland Irish Society Carnival will take place on the same day at Fowlds Park, Sandringham and will feature food stalls, Gaelic football and more. Of course Auckland's numerous Irish pubs will be hosting lively parties celebrating all things Irish.

8. Tokyo, Japan

Tokyo's 21st St. Patrick's Day Parade will take place this year on 14th March. Starting at 1pm, the parade typically heads along Omotesando Street near Harajuku Station. Expect colourful costumes, marching bands and colourful floats. More details to be announced soon. Thanks to Ben, Chairman of the Joint Chiefs of Staff, John Vetterli, Newtown Grafitti, Massachusetts Office of Travel & Tourism, Alan Light, and Toru Watanabe for the excellent pictures from Flickr. Please note they were under Creative Commons Licence at time of publishing.

9. Cape Town, South Africa

Another famous global landmark going green for St. Patrick's Day this year is Table Mountain. One of the top attractions in Cape Town, Table Mountain provides a stunning backdrop to this intriguing city. Other things to do in Cape Town include a visit to Robben Island, a day at the beach at Camps Bay, a wander around the V&A Waterfront and lots more.

10. Toronto, Canada

Starting at noon on March 15th, Toronto's annual parade will travel along Bloor Street, down...
Source: www.hostelworld.com
RELATED VIDEO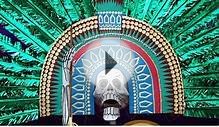 Day of the Dead Celebrations Around the World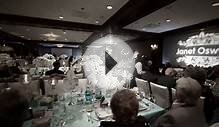 The Birthday Celebration of Janet -- Around the World in ...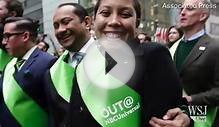 Celebrations of St. Patrick's Day Around the World
Share this Post