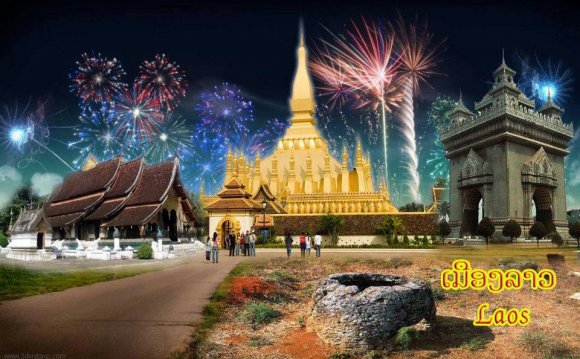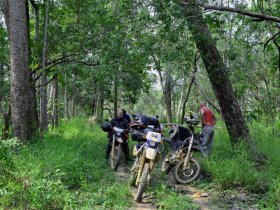 Vietnam Laos Cambodia crossing border motorbike tour is the best of motorbike tours in Southeast Asia. Tour departs from Hanoi – 1000 years old city of Vietnam; takes you through the long way on the Ho Chi Minh Trail in Laos – a living monument of the legendary historical period, through the 4000 Islands region where Khone Phapheng Falls 6 km wide flowing at border between Laos – Cambodia, get lost in ancient and mysterious Angkor Temple, enjoy sun and wind on populous Vietnam's coast road. Tour covers multi-terrain, go across from good roads to trails, gravels, single tracks. So you do not need to be an expert of off-road riding because you will get improved day by day. Just prepare in your mind for challenges as well as be able to discover the most remote & untouched regions.
ITINERARY
Day 1, Hanoi – Pu Luong
There will be a quite "interesting" riding getting out of city. Then we can hit speed on Ho Chi Minh road through stunning countryside to Pu Luong. You will see a part of Cuc Phuong national park and huge rice fields with limestone background. The Pu Luong, belonging to Cuc Phuong mountain range, the largest remaining area of lowland limestone forest in northern Vietnam, is an important example of Limestone Karst, ecosystems renowned for their complexity, richness and beauty. The nature reserve is home to endangered animals, including Langur of which less than 300 remain in the world. We spend our first night in hospitable Thai family. Enjoy dinner with some local dishes and try "rice whisky", all tiredness seems so far away!
– L, D
– Thai family's homestay
– Distance : 190 km
– Highlight : Pu Luong national park, Thai villages
Day 2, Pu Luong – Xam Neau (Laos)
Follow Ma River then turn left for real mountain windy road to Na Meo border crossing. It takes about an hour and half for existing Vietnam and entering to Laos. Here we are in Laos with beautiful scenery of limestone karts, rain forest. We will make a stop to visit Vieng Xai, the headquarter of Pha Thet Laos during the 2nd Indochina 2 War. There are about 480 caves were used by the Pathet Lao during the Second Indochina War to shelter from American bombardment. Sunset will be good time to make last ride to Sam Neau – the town in mist.
– B, L, D
– Xam Neau 1* hotel
– Distance : 230 km
– Highlight : winding road, Vieng Xai – the Pha The Laos' headquarter
Day 3, Xam Neau – Phonsavan
The market in Sam Neua is small, unassuming but interesting. Early morning, in opaque mist, the locals are getting filled up into market square. Not very a touristy spot, but you can find many colourful textile stuffs. Pick up simple breakfast with bread, let's get on bike again. Beautiful windy road, ride your motorbike with some stops in local hill-tribe villages along route no 6. Lunch in a restaurant in Nam Neun village before heading on another 95 km to Muong Kham, stop to visit Tham Piew cave – where about 400 people were killed during the second Indochina War by a rocket from American Jet on 24 Nov 1968. Then continue another hour to Phonsavan the new capital of Xieng Khoang province.
– Xieng Khoang 3* hotel
– Distance : 240 km
– Highlight : winding road, cave, H'mong village
Day 4, Phonsavan – Vieng Thong
After breakfast, we ride to Site 1 of Plain of Jars for our first look at the mysterious site. It gets its name from the hundreds of stone jars scattered across the landscape, ranging in site from 1-2.5 meters in height. There is considerable speculation as to the origin of the jars. Then we head to Muong Khoun. Enjoy our first road-break! Muong Khoun was once the capital of XiengKhoang Province. There is time to visit temples such as Wat Chom Phet and Wat That Phoun which were built the same time as That Luang in Vientiane. Depending on time, we can also visit some colonial building and old Lao Military Base that was seriously damaged by American bombing. Our destination today is Muang Vieng Thong where we overnight. This town locates on the dirt road no.10 – was also a branch of Ho Chi Minh trails. Now main traffic comes from logging trucks. The road is still under construction with mixture of gravel and tarmac. This remote town has never been an attraction on a tourist map. That's why we are here!
– Local guest house
– Distance : 260 km/~70 km dirt-road
Source: mototoursasia.com
RELATED VIDEO
Laos Tours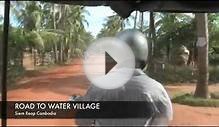 Thailand/Laos/Cambodia/Myanmar 2012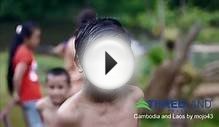 Indochina Tours: A Combined Journey To Laos and Cambodia .WEBM
Share this Post