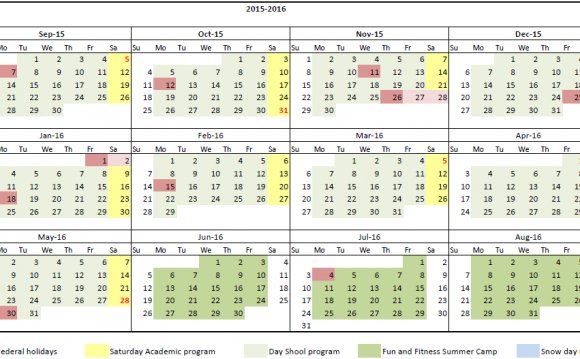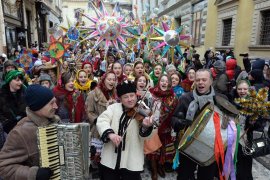 People, wearing traditional Ukrainian clothes, sing folk songs as they celebrate Orthodox Christmas in the western Ukrainian city of Lviv on Jan. 8, 2015. Photo: YURIY DYACHYSHYN/AFP/Getty Images
While Christmas trees and decorations have been taken down in many countries, celebrations are just beginning in others. In Russia, Ukraine, Greece, Israel and several other nations, Orthodox Christians, Greek Catholics and Coptic Christians will celebrate Christmas Wednesday 13 days after the well-known Dec. 25 festivities.
Why is Christmas celebrated Jan. 7? The difference in dates goes back several centuries to when Pope Gregory XIII established the Gregorian calendar in 1582. The Gregorian calendar has become known as the "Western calendar" and is internationally followed by many governments with Christmas celebrated Dec. 25. The Gregorian calendar was introduced to correct the Julian calendar that was created under the rule of Roman leader Julius Caesar and dates back to 46 B.C. Not all religions have switched over to the Gregorian calendar, which accounts for celebrations on Jan. 7 .
Russian President Vladimir Putin attends an Orthodox Christmas service at a local cathedral of the village Otradnoye in Voronezh region Jan. 7, 2015. Most Orthodox Christians celebrate Christmas according to the Julian calendar on Jan. 7, two weeks after most western Christian churches that abide by the Gregorian calendar. Photo: Reuters/Alexei Druzhinin/RIA Novosti/Kremlin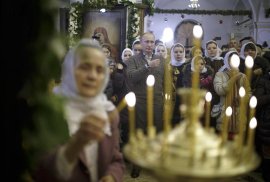 Even though the Russian Orthodox Church uses the Julian calendar to celebrate religious holidays, the country's government follows the Gregorian calendar, a common occurrence in many countries. Some churches, including the American Orthodox Church, have chosen to use the Revised Julian Calendar which means they celebrate Dec. 25. Armenia Orthodox followers in Israel buck both trends by celebrating Christmas Jan. 18.
Men wearing traditional Hutsul clothing take part in Orthodox Christmas celebrations at Holy Trinity Church on Jan. 7, 2015 in Iltsi, Ukraine. The men gather in groups and march around the church three times before spending 12 days traveling house to house singing songs until they've visited every home in the village. Photo: Brendan Hoffman/Getty Images
Which churches and countries celebrate in January? There are 15 different Eastern Orthodox churches and several, including ones in Russia, Ukraine, Serbia, Georgia and Macedonia, all celebrate Jan. 7 . Ethiopian and Egyptian Coptic churches also celebrate in January. Russia alone is home to 39 percent of the world's Orthodox Christians and over 85 percent of the population chooses to celebrate Christmas in January.
People take part in the religion procession 'Alilo' as they celebrate the Orthodox Christmas in central Tbilisi on Jan. 7, 2015. Orthodox Christians celebrate Christmas today in the Middle East, Russia and other Orthodox churches that use the old Julian calendar instead of the 17th-century Gregorian calendar adopted by Catholics, Protestants, Greek Orthodox and commonly used in secular life around the world. Photo: VANO SHLAMOV/AFP/Getty Images
What are some of the traditions? Traditions vary across countries and religions, but many Orthodox Christians, Greek Catholics and Coptic Christians choose to abstain from meat products or alcohol in the 40 days leading up to Christmas and fast during Christmas Eve. A mass is usually celebrated on Christmas Eve in the evening.
In Russia and Ukraine 12-course meat- and dairy-free meals are eaten on Christmas Eve to represent the 12 apostles. Common dishes include borsch, dumplings and stuffed cabbage. On Christmas day, caroling around neighborhoods is a common tradition. In Ethiopia church services and sporting tournaments are part of the holiday while in Serbia families traditionally go out to look for an oak branch to decorate their homes.
Source: www.ibtimes.com
Share this Post