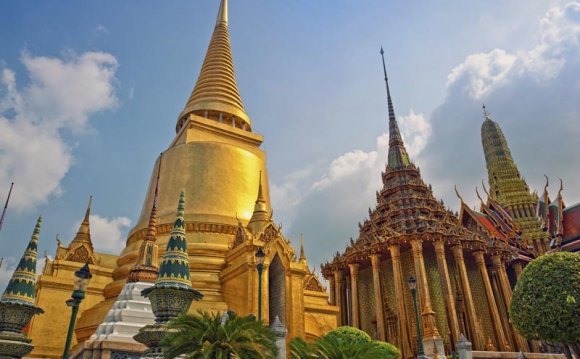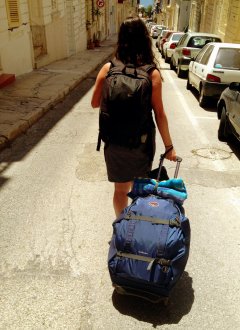 Why Upgrade?
I will always cherish my 40L REI Venturi Backpack that I bought back before I started traveling long-term in 2010. It was fantastic for backpacking Southeast Asia, where you don't need to bring anything but a handful of light clothing.
But for anything more intense, I was feeling the strain. It really couldn't cut it — it was too small (technically 38L since I had the extra-small size) and not strong enough. Though it did survive a shipwreck intact! It was time to get something better.
What I Wanted
1) I wanted it to be a bit larger but not too huge. 60 liters would be perfect.
2) I wanted it to be a rolling pack. There were two reasons for that: the first is that my back hurts toward the end of a long trip with my backpack, and the second is that I'm carrying much more computer and photography gear and using a larger daybag this time around.
3) I wanted a high quality backpack that would last a long time. I started talking to my friends, reading blogs, and researching online — and decided on the Osprey Sojourn line. These bags are ready for anything, and my friends who have them love them.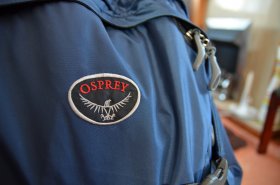 I contacted Osprey's team, and they kindly offered to provide both me and Mario with bags for our trip. I chose the 60L version in blue and Mario chose the 80L version in green.
What It's Like
I decided to wait until l I had been traveling with it for a month to give a review. My thoughts?
I LOVE, LOVE, LOVE THIS BAG.
It feels like it was made for the military. Every piece of it is so strong. It's like wearing a tank in the form of a backpack.
The critical parts are high quality. The zippers are excellent, and haven't even remotely come close to snagging. The wheels glide along the pavement like an ice skater over a freshly zambonied rink. And I've never felt such strong handles on a backpack in my life.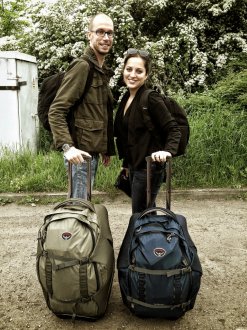 The material is strong and seems like it could take a beating. Hopefully we won't have to test that.
The inner and outer compartments are thoughtfully designed and very intuitive. There are two mesh-lined compartments running up either side within the pack, and I've been using them as my dirty laundry compartment. Laundry bags can quickly get out of control, but these keep the explosion to a minimum!
Additionally, there are a few compartments close fo the top of the bag that are good for small items that you need to access easily. I use mine for medicine; Mario stores his daily contacts in his.
There is also a back panel that seems to be intended for magazines, newspapers, or anything flat — but I find it works great for a blazer or cover-up.
We started our trip in Paris, which was like being thrown through a gauntlet with lots of up and down stairs on the metro. Though it took a bit of getting used to, I was especially pleased with the handles and they were so incredibly strong.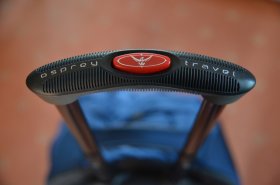 Having a wheeled backpack has changed my travels so much — it's so much easier on my body. I haven't started using it as just a backpack yet, but I'm sure I will once we get to areas with rougher terrain.
Mario loves his bag just as much as I love mine, and he especially loves that the materials are such high quality.
What Could Be Better
My only issue with this bag is that due to its short and fat shape, it tends to flip over backwards when you take a corner too fast. The center of gravity is different, and I can't zip around like I can with taller but skinnier bags.
Still, that's a very small qualm in the grand scheme of things.
The Price Point
My 60L bag retails for $259 on Amazon. Mario's 85L bag retails for $318.95 on Amazon. As far as pricing goes, that's toward the mid-range-to-higher-end price point for backpacks.
In my opinion, a backpack is a critical investment that you make. Getting a less-than-perfect backpack can ruin your body and your trip. This is especially important if you travel frequently or are planning to travel long-term. So paying an extra $100 for a bag this good is absolutely worth it.
Source: www.adventurouskate.com
RELATED VIDEO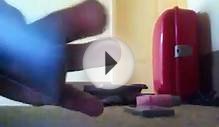 Review on the journey girls travel set
Coolmax® Sleeping bag Liner with Insect Shield Review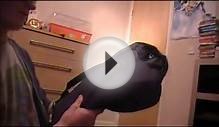 Osprey Farpoint 70 litre bag review
Share this Post