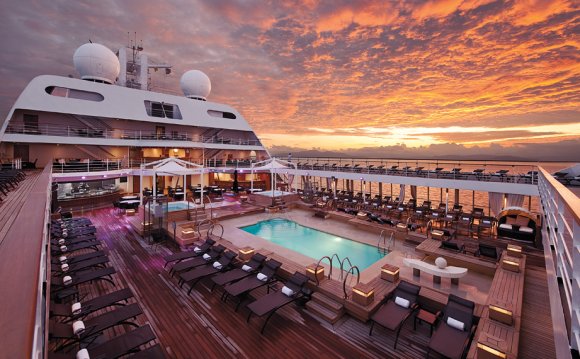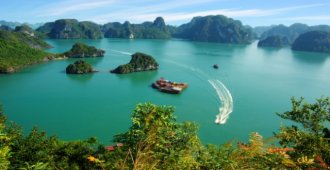 For those of you who have not heard about Halong Bay, allow me to set the scene: Imagine a bay of sparkling calm water, the colour of emeralds, pierced only by thousands of towering islets that point to the sky in unison. Basically this vision goes on for miles and miles; there is really nowhere else like it in the world.
The best way to see it is from a traditional junk ship, on a cruise of the bay, that normally last for one or two nights. This week I am going to be writing a series of articles about how best to pick your Halong Bay boat and the kind of differences that you can expect between the boats.
But today I would like to tell you about the one boat the offers unrivalled luxury on the bay; Paradise Peak.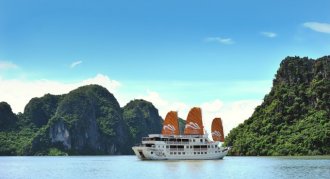 With just eight sublime cabins on board (that really are suite-size by hotel standards let alone boat standards), Paradise Peak is delightfully intimate and opulent.
After enjoying a few 'posh nibbles' at Paradise's private bar and lounge area, I boarded the junk with my boyfriend Matty and was immediately introduced to our private butler, who led us to our room. Grinning to myself as I dusted off the fresh rose petals we had been showered with as we stepped on the boat, I had a good feeling about the next 24 hours.
I might have even let out a small gasp as the door opened to reveal our 'superior suite' cabin (there are only suites on this boat I hasten to add, daaaahling), which was wonderfully spacious and decked out in smart teak woods, soft light bedding (complete with goose down pillows and duvet), a small dining area that opened out to a private balcony with sun loungers, and finally, a bathroom that felt just as big again. Equipped with a huge rain shower and a large bath tub it was easy to forget you were still on a boat – until you looked out of the floor-to-ceiling windows and saw the dramatic landscape of Halong Bay slowly pass you by.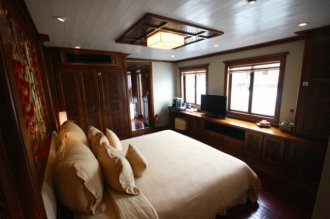 It was a good job our beautiful cabin had floor to ceiling windows and a spacious balcony that opened right out onto the incredible beauty of Halong Bay, because for a moment I thought I was never going to leave that room – or the bathroom for that matter, which may just have one of the best 'loo with a view' in Vietnam.
But before we could get too attached we were informed dinner was ready and as we slowly motored out into the bay, we sat down to enjoy a five-course lunch served with wine (Paradise Peak is one of the only all-inclusive boats in the bay) with one of the most tremendous seafood platters I have ever encountered.
I stared at the huge crab in awe (and confusion) and grinned gratefully to our private butler who offered to 'prepare' it for us. A few minutes later, it was back on our table, beautifully presented and ready to eat. That's just the way things roll on Paradise Peak…
The food was nothing short of exceptional; this was not just a journey into the heart of one of the world's most beautiful natural wonders but also a journey into the delectable tastes of Vietnamese cuisine.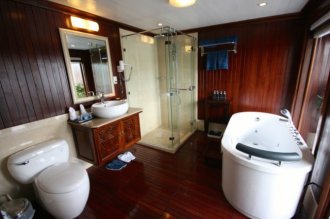 When breakfast arrived in our cabin the next morning, it was everything a hungry seafarer could have hoped for.
There were so many delightful little touches that really sets Paradise Peak aside from any other junk in the bay. It wasn't just being showered by rose petals that did it, or having our crab prepared for us, as lovely as that was. It was thanks to so much else – the fact that the staff knew every single name of everyone on the boat – even though some were just there for 24 hours like us, the rain macs they secretly carried and produced on excursions if there was a hint of moisture in the air, the fact that no request was too big, the juicy welcome drinks we were presented with every time we stepped back on the boat. The list is extensive but all of those little touches turned it from a beautiful floating hotel into something very special, incredibly personal and made me feel like the luckiest girl in the world.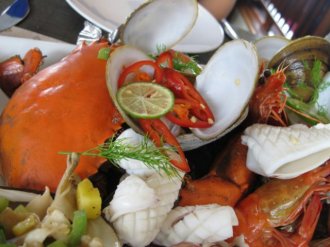 But if there's one thing even more beautiful than all of that, it's Halong Bay itself. And swimming in the water and watching the rain drops bounce off the surface and fall down again, is something you will never forget. But it's pretty cool to know you can go and step into your huge rain shower afterwards and tuck into a five-course asian fusion dinner. Yes, that is very cool indeed.
Travel Tips
Paradise Peak offers one and two night cruises along Halong Bay. We took the one night cruise and the itinerary included an option to see into a cave or float into a lagoon on the first day as well as 30 minutes kayaking – and a chance to try your hand at squid fishing after dinner. The next morning we were offered tai chi on the sun deck before breakfast, followed by a trip to an Oyster Farm and another 30 minutes of kayaking or swimming. If you have the time I would really recommend taking a 2-night cruise as it is a four-hour drive out to the Bay from Hanoi so it is nice to relax into the experience and spend longer than 24 hours on the boat.
Source: luxurytravelinasia.com
RELATED VIDEO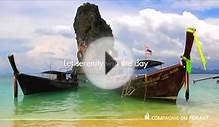 The Asia Collection - stunning luxury yacht cruises with ...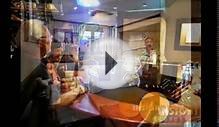 Paradise Luxury Cruise | Insight Asia Travel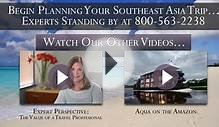 Book Your Southeast Asia or Mekong River Cruise- Luxury ...
Share this Post