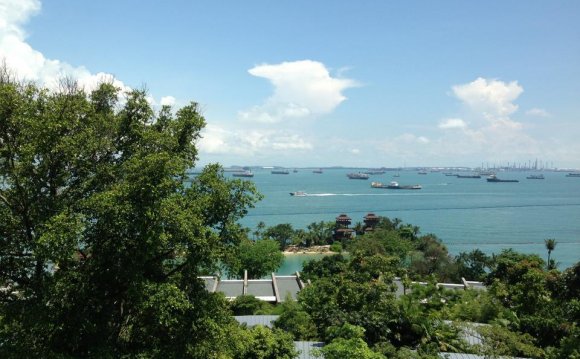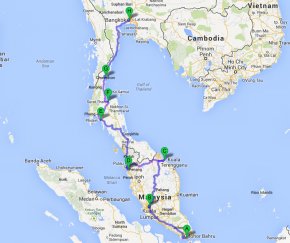 The Bangkok – Singapore backpacker route (or the other way around if you prefer) is one of the most common overland journeys most backpackers will make on their adventures – probably second only to the Sydney – Cairns east coast backpacker trail in Australia.
A large majority of backpackers will fly into or out of Bangkok due to it's numerous flight routings, cheap fares and the fact the Bangkok is arguably the gate to south east asia. From there you have a few options.
Many people head north to Chang Mai, Pai and into Laos before hopping over the border and exploring Vietnam or looping back to Bangkok via Cambodia.
Once that little circle of Asian goodness is complete you can either fly onward from Bangkok (Europe, Australasia or anywhere else you fancy) or you can complete the over land adventure and make your way down to Singapore for the onward flight.
Or if you're heading back from Australia/New Zealand like myself you'll find flying into Singapore (either direct from Oz or a short flight form Indonesia) and heading up allows you a great introduction to the joys of this part of the world.
Despite bouncing around Asia for a lot of last year I never did the full journey. This year however I decided to undertake it, make note of the costs and travel times and then put it all together in a lovely post for you so if you're planning a backpacking trip this end of the world you have a good idea of how much it costs and how long it takes between the two – and I've included where I stayed to give you a starting point for accomodation.
I've had many questions about how easy it is to explore Asia and unless you've been to this part of the world it's hard to fathom things out online sometimes.
And I can certainly assure you that the first time you're presented with a scrap of paper and a meeting point you're half thinking you've been scammed! One of the joys of it though is even if you need to do a combo of boats, buses and taxis it can generally all be sorted in a single ticket in one place, so it's heaps easy!
So here it is – How To Overland Singapore – Bangkok, Including Costs…
Singapore – Kuala Lumpur
This was probably the easiest stint of the whole overland adventure. The bus was super comfortable – it had massage chairs, air con and even power points with the seats – and was pretty short too.
The border crossing between Singapore and Malaysia was very easy and efficient too, so I wouldn't fret too much about it, just make sure you have your passport to hand.
Transport; Bus (including border crossing)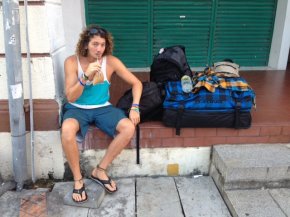 Time; 5 hours
Cost; £12
Accommodation in Singapore – Matchbox Hostel and Gap Year Hostel.
Kuala Lumpur – Perhentian Islands
The first leg of this journey is the overnight sleeper bus (with full reclining seats!). You can book this from the Putra Bus Station on the outskirts of KL and two companies can drop you off at the Kuala Besut Jetty in time for the first speed boat of the day. I opted for the Mitiara Bus Company and had no qualms with it at all.
Once you arrive at the jetty it's easy to grab your return tickets to the islands which are open dated.
Transport; Sleeper Bus and Speed Boat
Time; Kuala Lumpur – Kuala Besut Jetty = 10 hours, Kuala Besut Jetty – Perhentian Islands = 40 mins
Cost; Bus = £9, Speed Boat = £14 return
Accommodation In KL – Amigos Backpackers
Kuala Besut Jetty – Penang
From the Kuala Besut it is possible to get a taxi to the Thai border and then head upwards to the islands, however I have heard quite a few sketchy stories about border crossing on this side and it's a very much off your own back ordeal – which leads me to think it would stress me out heaps or I'd get ripped off!
So I opted to head to Penang for a night (on the west coast of Malaysia) before heading into Thailand.
This journey was pretty comfortable too, but because we wanted the overnight bus with SP Bumi Company (saves on accommodation costs!) we did ended up waiting around in the bus station for about 5 hours!
From the jetty you take a quick taxi to the station and you're all good to go (although we had to pay more and wait due to it being Ramadan). There's plenty of food stalls there to grab a bite to east too.
You do get into Penang at like 4am so try and book a hostel with a 24 hour reception if you can!
Transport; Taxi and Overnight Sleeper Bus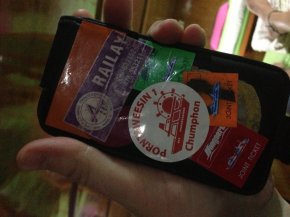 Time; Taxi = 30mins, Bus = 8 hours
Cost; Taxi = £3, Bus = £10
Accommodation In Perhentians – Ombak Dive Resort
Penang – Krabi
The Penang – Krabi leg of my journey was perhaps the one I hated the most! Having only had one night in Penang I was still pretty shattered from the last long haul stint and was in a pretty bad mood!
Plus being 6 foot means mini buses feel pretty cramped.
The Malaysia – Thailand border crossing was pretty simply too, although a bit more of a wait than Singapore – Malaysia, and we arrived in Krabi at around 5pm.
**NOTE: In hindsight getting from the Perhentians to Thailand (or vv) it would have been better to go back to KL and taken a flight with Air Asia to Phuket, slightly more costly but it would've been heaps quicker and comfortable!**
Transport; Mini Bus (Including border crossing)
Time; 10 hours
Accommodation in Penang – Cocoa Mews
Krabi – Phi Phi Islands
The plan from Krabi was to head over to Railay Beach first, but due to weather and Ramadan it was uncertain if the long tails would be running. So we headed to Koh Phi Phi first.
This journey is dead easy, quick mini bus to the ferry port and then the ferry direct to Phi Phi.
Done!
Transport; Mini Bus and Ferry
Time; 2.5 hours
Cost; £6
Accommodation in Krabi – Pak Up Hostel
Phi Phi – Railay Beach
Having failed to do Railay first that was our next port of call – and a welcome addition to the itinerary actually. Getting there was pretty simple too, the ferry docks in the bay at Railay and then you jump on a long tail to the beach.
The only downside is that depending on tides you may have to wade in knee deep water with all your fro 100m to the beach…which was an interesting experience!
Transport; Ferry and Long Tail
Time; 2 hours
Accommodation In Phi Phi – Tara Inn
Railay Beach – Koh Tao
Having covered Koh Phangan and Koh Samui I opted to miss them out this time around (it's pretty easy and cheap to take a ferry between them all – roughly £8 a journey – and then do this journey to Samui) and headed to Koh Tao.
This chunk had some good stints of waiting around between transport options which sucked a bit but you tend to meet a lot of backpackers doing the same route.
Unfortunately we ended up on the 125 berth sleeper ferry from Surat Thani rather which is a shoulder to shoulder affair and didn't work well for a good nights sleep! If you can get the bunk bed one from Chumphon it's a much better option so double check!
Transport; Long Tail, Mini Bus, Bus, Sleeper Ferry Combo
Time; 15 hours
Cost; £20
Accommodation in Railay – Diamond Cave Resort
Koh Tao – Bangkok
Many people head straight to the Thai Islands from Bangkok, for either diving, beach living or the infamous Full Moon party on Koh Phangan. Personally I'd head for Koh Tao first on the East coast as it's technically the closest to Bangkok, you can however do a sleeper bus/ferry combo to/from Koh Phi Phi too if you wish for the same price.
Source: www.backpackerbanter.com
RELATED VIDEO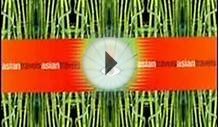 Asian Travels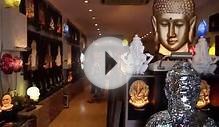 Singapore Travel To South East Asia
Share this Post