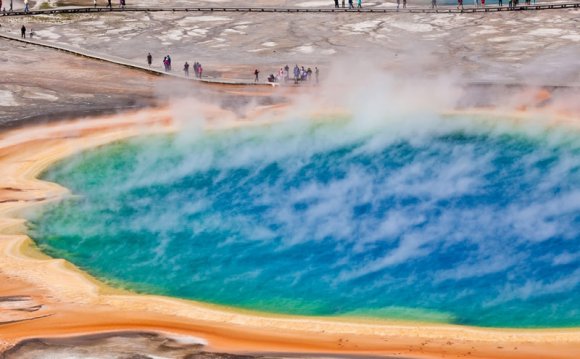 One of Asia best-kept secrets, the sleepy nation of Laos is steadily awakening from its slumber, ready to reveal a glorious abundance of attractions, from its charming cities, to its spectacular mountainous landscape, to its temptingly idyllic lifestyle.
A nation that has avoided the limelight of its south-east Asian neighbours, despite being surrounded by them, Laos is slowly earning a reputation for its laid-back atmosphere and rich cultural heritage, a fascinating blend that is attracting an increasing number of curious travellers keen to cover a path less travelled.
Tour Name:
Sort By:
HighlightsTop ten things to doPlaces to seeImages
Laos Highlights
A Travelbag tour of Laos is the ideal opportunity to cover a path less travelled, with our expert local guides ensuring you get the most from your Laos holiday adventure.
Perfect for those keen to see the world for themselves, our independent tours, multi-centre tours and escorted tours are designed to give you freedom, convenience and the chance to experience everything this rewarding country has to offer.
Enjoy a fresh cup of coffee as you glance across the waters of the Mekong River in Vientiane. Admire the spiritual beauty of Luang Prabang's gentile monks as they collect alms of rice from locals. Come face-to-face with the intricate Buddhist statues of Pak Ou Cave. Laos has something for everyone.
Key Highlights of Laos
Exploring the colourful parks of Vientiane
Cruising along the lazy Mekong River
Witnessing the morning ritual of Buddhist monks
Sampling the delicate flavours of traditional Lao cuisine
Visiting the mysterious 'Plain of Jars'
Admiring the French colonial architecture
For more information about Travelbag's excellent range of Laos tours, call 0871 703 4698 Costs 13p/min + network extras to chat with one of our knowledgeable travel experts about creating the perfect Laos holiday for you.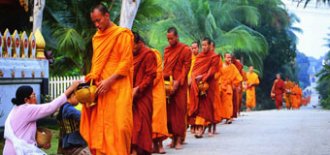 TOP TEN THINGS TO DO IN LAOS
Find inner-peace in Luang Prabang - Stroll the leafy boulevards of UNESCO World Heritage town Luang Prabang, admire its temples and be enchanted by its peaceful atmosphere on a Travelbag tour.
Explore a sleepy capital city - Take a Travelbag tour to explore Laos' striking capital city Vientiane with its temples, stupas and statues, not to mention the pleasant French-colonial influences, from architecture to food.
Float on a river of tranquillity - Float slowly through stunning gorges and past intriguing riverside villages on a gentle Travelbag tour cruise across the mighty Mekong River.
Discover the mysterious Jars of Laos - Uncover the mysteries of the 'Plain of Jars', a rolling landscape scattered with unusual stone jars believed to date back to the Iron Age.
Be enchanted by Luang Prabang monks - Watch the fascinating daily ritual of monks walking the Luang Prabang streets at dawn, collecting alms of rice from kneeling locals.
Tickle your taste buds - Discover how to cook delicious Lao cuisine using local methods and ingredients
Dive in, cool off - Go for a paddle in the beautiful Kuang Si Waterfalls to cool off from in the pleasant Laos climate.
Come face-to-face with Buddha - Delve into the depths of the Pak Ou Caves and witness the thousands of Buddhist statues inside.
Be blessed - Travelbag's Laos tours offer the chance to immerse yourself in Laotian culture by witnessing a graceful Baci blessing in a local home
Island-hop - Skip between Laos' '4, 000 Islands', dotted across the Mekong River, and keep an eye out for the elusive freshwater dolphin
LAOS - PLACES TO SEE
Laos' most treasured destination, a tour of Luang Prabang offers a hugely rewarding holiday experience with its romantic atmosphere, gorgeous scenery and spiritual attractions. A Laos tour with Travelbag will see you explore the heart of this pretty city with its leafy boulevards and French colonial accents.One of the world's longest rivers stretching all the way from China to Vietnam, the Mekong River flows across the border between Laos and Thailand, often through stunning untouched landscapes. With Travelbag, you have the opportunity to embark on an unforgettable cruise along the Mekong River aboard the Luang Say. The sleepy capital city of Vientiane encourages a calm method of exploration, where relaxing with a beer alongside the Mekong River is as encouraged as discovering its attractive cultural sites. A Vientiane tour will also give you the chance to visit temples and learn how to create fine silk.
Source: www.travelbag.co.uk
RELATED VIDEO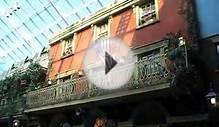 Trafford Centre Manchester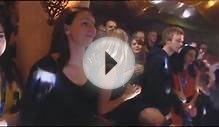 Flight Centre Travel Guys in Manchester
Share this Post