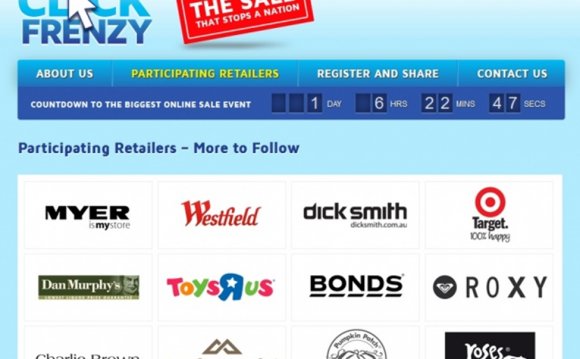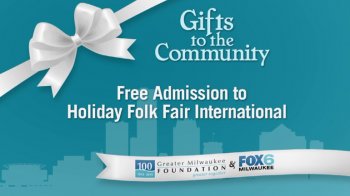 MILWAUKEE — FOX6 and the Greater Milwaukee Foundation are teaming up to bring you Gifts to the Community – unique experiences that highlight the remarkable resources the community has to offer – as we celebrate the Greater Milwaukee Foundation's 100 years of service to the Milwaukee area.
The November Gift to the Community is free admission to Holiday Folk Fair International on Sunday, November 22nd. Visitors will enjoy a day full of traditional music and dance, food and shopping, arts, crafts and demonstrations, all celebrating the diverse cultural heritage of Wisconsinites.
What: Holiday Folk Fair International
Where: Wisconsin State Fair Park Exposition Center, 8200 W. Greenfield Ave., West Allis, WI 53214
Date: Sunday, November 22nd
Hours: 10 a.m. to 7 p.m.
Holiday Folk Fair International is a program of the International Institute of Wisconsin, a nonprofit social service organization dedicated to racial, cultural and ethnic understanding. The annual event, now in its 72nd year, honors the cultural heritage of the people living in southeastern Wisconsin. The theme of the 2015 Folk Fair is "Celebrate the Culture of Light."
On Sunday, November 22nd, the Folk Fair will feature:
Interdenominational religious service at 10:30 a.m.
All Nations Theater: traditional music and dance performed by more than 25 cultural groups and guest groups, plus the Young People's Showcase, with performances at 11:15 a.m. and 12:45 p.m.
World Café: a wide assortment of delicacies from around the world
International Stage: young people performing traditional dances
Tanzhauz (Music Pavilion): dance and sing along with a variety of musical stylings
Coffee House: enjoy a beverage and baked goods while listening to talented musicians
Heritage Lane: traditional customs from diverse cultures brought to life
International Bazaar: cultural artifacts create a unique shopping experience
Chef's Stage: local chefs preparing traditional cuisine
Wisconsin Woodturners
Old World Wisconsin display
Bonsai exhibit
Closing Ceremonies
More information is available at and FolkFair.org or by calling 414-225-6225.
About Greater Milwaukee Foundation
For a century, the Greater Milwaukee Foundation has helped individuals, families and organizations realize their philanthropic goals and make a difference in the community, during their lifetimes and for future generations. The Foundation consists of more than 1, 200 individual charitable funds, each created by donors to serve the charitable causes of their choice. The Foundation also deploys both human and financial resources to address the most critical needs of the community and ensure the vitality of the region. Established in 1915, the Foundation was one of the first community foundations in the world. Ending 2014 with more than $841 million in assets, it is also among the largest.
Source: fox6now.com
RELATED VIDEO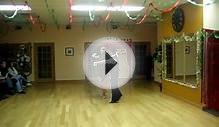 International Rumba - Holiday Show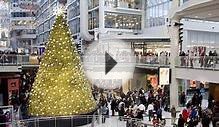 Christmas in November: Retail ploy or holiday cheer?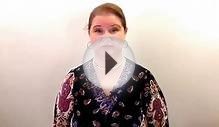 November 2015 Pet Holidays from International Association ...
Share this Post