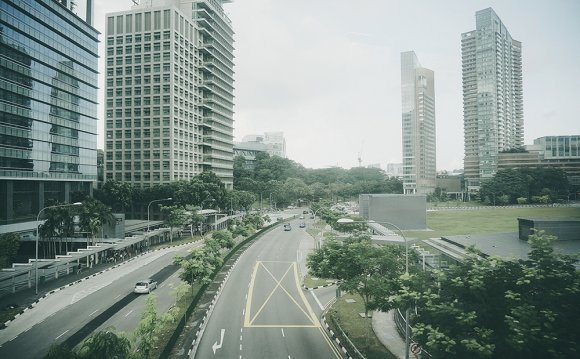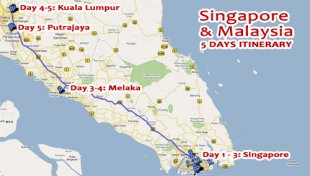 We spent five days for our do-it-yourself trip to Singapore and Malaysia. We spent the first three days in Singapore and then crossed over to Malaysia on the second part of our trip.
From the Philippines, we took off from Clark International Airport, Pampanga and arrived in Changi International Airport, Singapore. On our third day, we crossed the Malaysian border at Johor Bahru and took a bus to Melaka for an overnight "stop over." We continued our journey early morning the next day to Kuala Lumpur and took a side-trip to Putrajaya before the flight back to Manila.
Here's our full Singapore and Malaysia overland DIY trip itinerary:
Day 1: Travel to Clark Airport
6:00AM – Drive to Clark International Airport (Diosdado Macapagal International Airport) in Angeles City, Pamapanga via the North Luzon Expressway (NLEX). It took us 3 hours land travel (private transport) from Taft Ave., Manila City to get to Clark Airport (taking a breakfast stopover along the NLEX). Commuting to Clark should take 2-3 hours (or more depending on traffic conditions) from Metro Manila. Philtranco bus line has a direct service to Clark International Airport from SM Megamall or their terminals at Pasay and Cubao (P300 bus fare from Pasay and P350 from SM Megamall/Cubao) 8:40AM – Arrival at Clark International Airport, also known as Diosdado Macapagal International Airport (DMIA)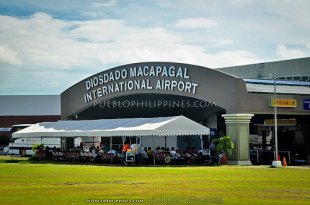 Clark International Airport (Diosdado Macapagal International Airport)
Flight Check-in Procedures at DMIA Airline / Flight #: Cebu Pacific Flight 5J537 Terminal Fee: P600 (for international flights) Philippine Travel Tax: P1, 620 (for outbound Philippine passport holders) Clear Philippine immigration. Prepare travel documents, necessary items include: Valid Passport (No travel visa needed in Singapore and Malaysia for Philippine passport holders) Enough cash on hand (seemingly discriminatory, but Philippine immigration officers would sometimes like to make sure that you're financially capable to travel). Always exchange my money to US$ for convenience before flying out (Philippine pesos usually have lower exchange value abroad). 11:40NN – Final boarding for Cebu Pacific Flight 5J537 bound for Singapore 12:10NN – Clark to Singapore Flight via Cebu Pacific
Arrival in Singapore
3:40PM – Arrival in Changi International Airport (Budget Terminal), Singapore. Same time zone (+8 GMT) as Manila, Philippines. Clear Singapore Immigration and Customs. Always secure the white arrival card (don't lose it). Claim check-in baggage Exchange US$ to SG$. Just enough to get to the City Center. Ride free airport shuttle (parked outside the arrivals building) from the budget terminal to terminal 2. The (Changi Airport) MRT station is located at the basement level between terminal 2 and 3.
We actually discovered a bit late that our travel in Singapore coincided with the F1 Weekend (Formula 1 Night Race / Singapore Grand Prix). It took us a while to secure room reservations because some of the hotels/hostels were already fully booked.
4:40PM – Ride MRT (East West / Green Line) to Bugis Station – SG$1.90 (visit Singapore MRT website for ticketing and fare details). SMRT has an unlimited tourist pass like Hong Kong's MTR but we calculated the fares and discovered it was cheaper to buy single trip tickets instead. Walk to Backpacker Cozy Corner Guest House, North Bridge Rd from Bugis Junction exit. We had earlier planned on staying at SEA Hotel (also walking distance from Bugis station) but they were fully booked. Check-in at Backpacker Cozy Corner Guest House. We had a room (good for 4) reserved online but they gave out our room to another group because we arrived at the hostel later than the time we specified in our reservation. Luckily, they still had they dorm-type beds available (SG$18 per bed per night for the aircon room and SG$13 for the non-aircon).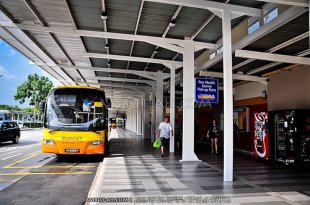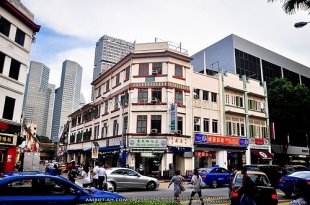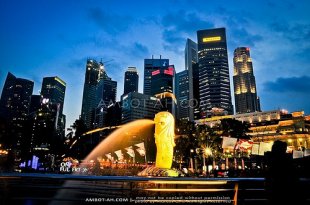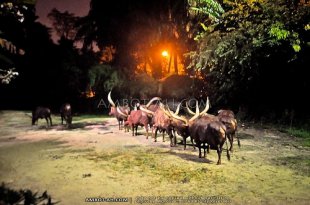 Source: www.ambot-ah.com
RELATED VIDEO
Singapore and Malaysia Trip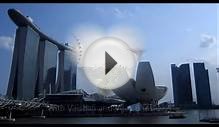 Singapore and Malaysia Trip 2014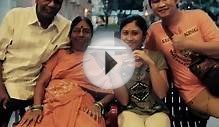 Malaysia-Singapore Trip 2013
Share this Post