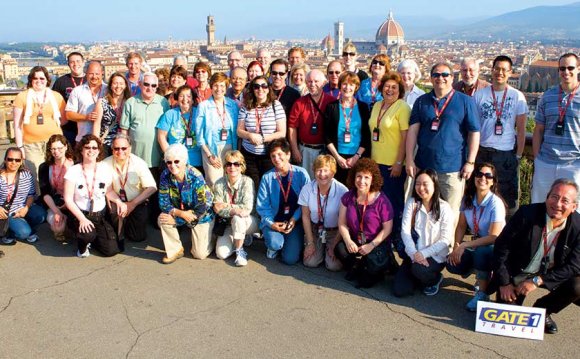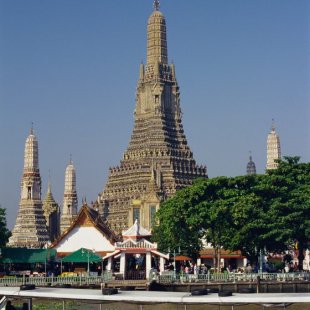 Wat Arun, a temple in Bangkok (Photo: Images )
Related Articles
A vacation in Thailand can mean many different things, and when it comes to choosing a guided tour there are plenty of options. Many of these tours, such as sailing, hiking or culinary tours, appeal to a niche market but are not right for everyone. However, a handful of Thailand tours available through major tour companies are notable for having itineraries that not only cover the sights of numerous destinations within a one- to two-week vacation, they also cater equally to travelers of all ages, interests and desires.
Intrepid Travel: Beautiful Thailand
The "Beautiful Thailand" tour presented by Intrepid Travel is a 15-day round-trip from Bangkok that features destinations in Northern and Southern Thailand. Some of the better-known sights included on the itinerary are the bustling Khao San Road in Bangkok, the Bridge on the River Kwai and the night bazaar in Chiang Mai. The tour also features days trekking in the remote countryside and a homestay in a rural village, during which you will enjoy a khantohk dinner and a dance performance by local school children. The tour includes accommodations in guest houses and hotels, an overnight train, in hill tribe villages, at a private home and in a raft house.
Gap Adventures: Thailand Island Hopping
Gap Adventures' nine-day "Thailand Island Hopping" tour showcases the islands of Southern Thailand as well as the sights of Bangkok, where the journey begins and ends. With departures from May to October, the itinerary features the island of Koh Samui; Koh Pha Ngan, where options for activities include snorkeling, yoga classes, full moon parties and hiking to waterfalls; and Koh Tao, where you can swim or relax. Trips departing from November to April follow a different route, heading from Bangkok to Krabi for snorkeling, kayaking, Thai cooking lessons or rock climbing. The tour continues with a day on Koh Mook island, followed by a four-day sea safari in the Andaman Sea, camping and island hopping.
Gate 1 Travel: 9 Day Central Thailand with River Kwai
The itinerary of Gate 1 Travel's nine-day "Central Thailand with River Kwai" vacation includes tours, overnight stays and time for independent exploration in Bangkok, Kanchanaburi and Ayutthaya. A visit to the Damnoen Saduak Floating Market on the way from Bangkok to Kanchanaburi is also scheduled. The city tour of Bangkok features a flower market, the Royal Palace and Wat Po, an ancient temple famous for its 160-foot long Reclining Buddha statue. In Kanchanaburi, see the Bridge over the River Kwai and consider the optional day-long excursion to Hell Fire Pass and the Death Railway, which were constructed by Allied Prisoners of War. Spend the final days exploring Ayutthaya, the capital of Thailand from 1350-1767 and a UNESCO World Heritage Site.
Monograms: Best of Thailand
Monograms' Best of Thailand tour, a nine-day round-trip from Bangkok, includes a hotel accommodations of your choice, daily breakfasts, transportation, sightseeing tours and the services of a local host. It begins with three days in Bangkok, then a flight to Chiang Rai, where you will ride a rickshaw, visit a local market and have time for pursuing your own choice of activities. From Chiang Rai, continue to Chiang Mai, the final destination before returning to Bangkok for your flight home. In Chiang Mai you will see the famous Buddha at Wat Phra Singh and ascend a 300-step staircase (or take a tram car) to the mountaintop temple, Wat Doi Suthep.
Source: traveltips.usatoday.com
RELATED VIDEO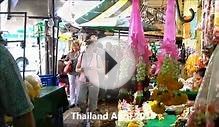 Thailand with Gate1 April 2015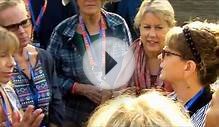 Thailand and Laos with Discovery Tour by Gate1 and Mary ...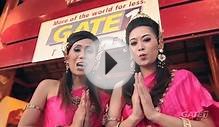 The Gate 1 Thailand Experience
Share this Post