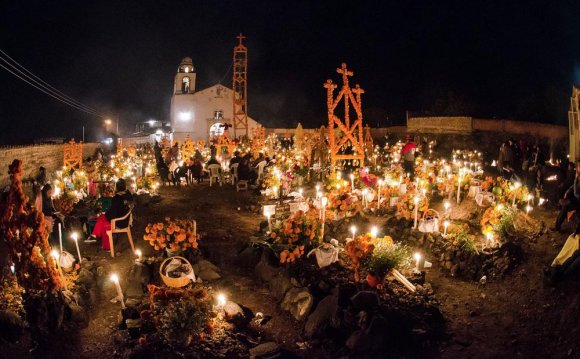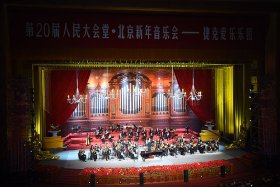 2016 in Thailand
In around 50 minutes, Thailand will be welcoming in the new year, and they aren't letting fears of terrorist attacks affect the celebrations.
Less than six months after a pipe bomb killed 20 people at the Erawan Shrine in Bangkok, tens of thousands are expected to ring in 2016 at the same intersection with live music and a countdown.
Up to 5, 000 police will be in the area, with explosive ordnance disposal experts making a sweep ahead of time.
Noisier still will be the celebration along the Chao Phraya River, where tourism officials have promised spectacular fireworks over two of the kingdom's most iconic landmarks, the Grand Palace and Wat Arun - the Temple of Dawn.
Indonesia, on the other hand, is on high alert after authorities said last week that they had foiled a plot by Islamic militants to attack government officials, foreigners and others. About 150, 000 police officers and soldiers have been deployed to safeguard churches, airports and other public places.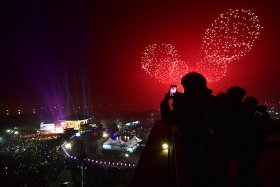 National Police spokesman Major General Anton Charliyan said security is focused on anticipating attacks in vulnerable regions including the capital, Jakarta, the tourist resort of Bali and restive West Papua, where President Joko Widodo is celebrating the New Year.
More than 9, 000 police are deployed in Bali, the site of Indonesia's deadliest terror attack, which killed 202 people in 2002.
Christ in Manila
While in the Philippines, where it is also midnight now concern tonight is instead focused on the use of illegal fireworks, which last year injured more than 850 people. Shopping malls and cities have organised fireworks displays to discourage people from lighting their own firecrackers. A huge religious sect, the Iglesia ni Cristo, will attempt to break the world record for the largest fireworks display and the highest number of sparklers to be lit in one place.
An annual thanksgiving procession of the Black Nazarene, a black wooden statue of Jesus Christ, was held a day earlier than usual today to prevent injuries from mounds of trash and unexploded firecrackers that litter Manila's streets after New Year's revelries.
Beijing
Next up is China, where it will be midnight in less that 10 minutes. An official New Year's Eve celebration is planned near Beijing's Forbidden City with performances and fireworks, and one of China's most popular TV stations will broadcast a gala from the iconic Bird's Nest stadium.
As I said earlier, Shanghai is closing subways near the scenic waterfront Bund because of a stampede last New Year's Eve that killed 36 people and blemished the image of China's most prosperous and modern metropolis.
Beijing's shopping and bar areas are under a holiday security alert that started before Christmas and has resulted in armed police standing guard at popular commercial areas. Police commonly issue such alerts during holiday periods.
Follow the live stream at the top of this blog for a dance performance in Beijing, followed by fireworks at the Imperial Ancestral Temple in the capital's Forbidden City.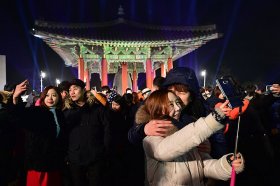 These are the scenes from South Korea, where they are also celebrating the start of 2016. The country marks New Year's Eve with traditional bell ringing ceremonies, fireworks and outdoor music and dance performances. Thousands of people, including North Korean refugees, are expected to gather at a town near the border with rival North Korea to watch one of the ceremonies and wish for peaceful Korean unification.
North Korea is expected to mark the new year with a speech by leader Kim Jong Un, which outside observers use to pore over for insight on the reclusive country's policy direction.
Japan
Happy new year, Japan. Temples across the country will be chiming for Japan's biggest holiday of the year. More than three million people visit the Meiji Shrine during the first three days of the New Year, to pray for their health, economic fortune and wishes to come true
Men disguised as "Namahage" by wearing a demon-like mask and a costume made of straw yell to boost their spirits in Oga, northeastern Japan. Namahage, considered divine messengers bringing blessings to people, visit houses in the area every New Year's Eve, yelling and telling children they have to behave themselves in a tradition designated as one of Japan's important intangible cultural assets.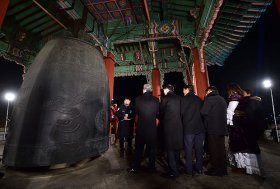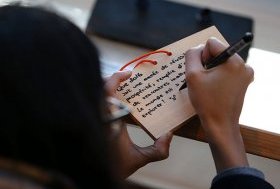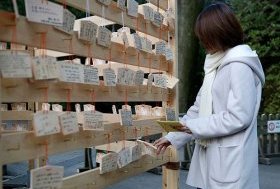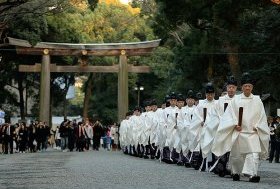 Source: www.telegraph.co.uk
RELATED VIDEO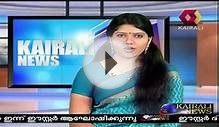 Christians Around The World Celebrate Easter Today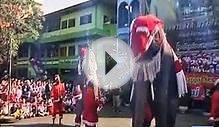 Christmas being celebrated today around the world.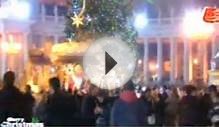 Christmas celebrations around the world Today
Share this Post